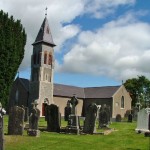 | | |
| --- | --- |
| Religious Ceremonies are also available via Two Mile House webcam. | |
| Monday - Friday | 9.30am |
| Sunday | 10am |
At the "top of the hill" in our little village is the well known "St. Peter's." This much loved little church first emerged on the landscape back in 1790 and since then the story of "St. Peter's" has developed around the lives of the people here in Two Mile House. It is the place where we gather to celebrate the significant moments of our lives as a community. Our joys are shared and celebrated within these walls in the welcoming of new members at Baptism, in the receiving of First Holy Communion and Confirmation and as couples set out on the adventure that is married life. We seek the healing and comfort of the Lord in reconciliation and our participation in the Eucharist every Sunday. As our journey ends we gather here as family and community to comfort each other and to celebrate the life of one who shared their love and laughter with us. In all of these significant moments Christ is present to us in a special way.
As we continue to live and celebrate the Gospel message in our parish, we do so in challenging times as many new questions emerge around faith in our society. "St. Peter's" has been a landmark presence for over two hundred and twenty years in our community. During its life and history many changes and challenges have happened. Its walls echo of the memory of those gone before us who persevered in the faith in difficult times too. Our little church is a symbol of Christian hope to those of us who continue to believe in an increasingly sceptical culture.
Click here to view the Renovation Booklet –    View photos of  recent renovations
St. Peter's Church, Two-Mile-House
Mathias White of Mullacash, who died in 1789, was the main benefactor of St. Peter's, leaving £200 for the building of a new chapel at Two-Mile House. Archibald Hamilton Rowan (1751-1834) donated the site. The church has one of the oldest examples of stained glass in Ireland signed "J. Sillery, Dublin 1818," depicting St. Peter.
View our photo gallery of St. Peter's Church, Two-Mile-House