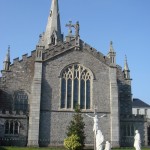 | | |
| --- | --- |
| Saturday Vigil | 6.00pm |
| Sunday | 9.00am, 11.00am, & 6.00pm |
| Monday to Friday | 7.30am & 10.00am |
| Saturday Morning | 10.00am |
Winter Closing Time for the Church of Our Lady and St David, Sallins Road. For safety & security reasons it is necessary to close the Church while it is still daylight. Until further notice the Church will close at 4.00pm.
Click here to view Gallery of The Re-dedication Ceremony in November 2013
Our Lady & St. David's Parish Church, Sallins Rd.
The Parish Church is dedicated to Our Lady and St David. The main body of the church dates from 1827. The 60 metre spire was added in 1858. Most recent renovations, carried out in 1985, incorporated the directives of the 2nd Vatican Council. The new Blessed Sacrament Altar, is a circle, with the Tabernacle as its pivotal point, denoting Christ as the Centre of the Universe.
View our photo gallery of Our Lady & St. David's Parish Church