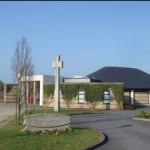 Below schedule of Masses suspended until further notice.
Saturday Vigil
7.30pm
Sunday
10.30am & 12.00noon
Monday, Wednesday, Friday
7.30pm
Holy Day or Feast Day Times
See Notices
Adoration
Monday - Friday 10am - 7pm
Wednesday after 7.30pm Mass - 9.30pm
This church dedicated to the Irish Martyrs was blessed and opened in Ballycane, on the East side of the town in 1997. One of the martyrs to whom the church is dedicated is a seventeenth century Naas Dominican Friar Fr Peter Higgins, who was executed in Dublin on 23 March 1642.
View our photo gallery of the Church of the Irish Martyrs, Ballycane