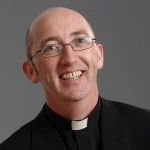 Easter Sunday has arrived, a day filled with hope, joy and the promise of life eternal. It has been a truly beautiful week; from our walk along the Canal last Sunday, celebrating the journey of Jesus into Jerusalem, then to the solemnity of Holy Thursday and the deep reverence expressed as we stood in line to kiss the Cross on Good Friday. They are not just any days but rather they are truly days that are 'Holy', and so today we acknowledge and rejoice in the belief that Jesus is truly risen, He is risen indeed! Perhaps at this moment in life we carry a personal burden or are weighed down by some particular worry, let us remember that as Christ has conquered death, He has the power also to conquer our fears and our deepest worries, and their lies our hope.
It being Easter, I would like to take this opportunity to thank our Parish Staff, to the many volunteers who give of their time, serving in the many areas of the Parish Life and Ministry and to all who roll up their sleeves to care for our four Churches, it is deeply appreciated!
We wish you a Happy and Joy filled Easter and thanks as always for your encouragement and for your kind and generous support.
Happy Easter and every Blessing from the Parish Team: Michael, Hilda, Fergal, Alex, Joe and Liam.