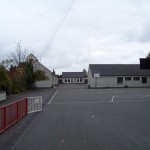 Chairperson BOM: Mr. John McMahon.
Roll No.: 17254 C
St Corban's is a Catholic Boys National School under the patronage of the Bishop of Kildare and Leighlin and is operated under the guidelines of the Department of Education and skills. The school has a Catholic ethos and has a long tradition of accepting pupils of all backgrounds and levels of ability from Naas and surrounding areas.
Our school opened its doors to students for the first time in 1954.The Christian Brothers School at the Moat and the Green School on the Kilcullen Road both closed to make way for the new, six classroom C.B.S built on a site known as Brannigan's Field.
The school has grown rapidly in recent years and we have welcomed many families from all over Ireland and from countries as far away as Brazil and Russia.
The Christian Brothers' involvement with the school ended in 1997 with the retirement of Brother Brennan but the ethos of the Brothers lives on in the school's desire to provide a quality education to all who pass through its doors.