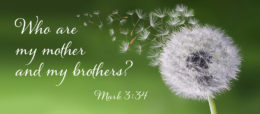 Today marks the first time the Church will celebrate a Sunday of "ordinary time" since February 11th, almost four months ago. In the meantime, of course, we have observed the seasons of Lent and Easter, and then at the conclusion of the Easter season we celebrated three other great Feasts on Sundays: Pentecost, Trinity Sunday, and Corpus Christi.
Following these celebrations the Church now settles into the long ecclesial summertime that leads us back to the beginning of the next liturgical year, which begins this year on December 2nd, the First Sunday of Advent. While it may seem as though the first reading today from Genesis is therefore a natural place to start our post-Easter reflections—beginning at the beginning—it is actually a coincidence, since the Old Testament readings for ordinary time cover a wide range of topics and historical eras before we hear from Genesis on this Tenth Sunday of the season. The focus of the Church is much more intent and systematic on the Gospel, and that brings us to the third chapter of Mark where Jesus has been preaching the Kingdom, healing many who were sick, and casting out demons.
Seeing how his actions were badly misinterpreted by his enemies, Jesus emphasizes what it takes to be his true and faithful disciple: those who attribute his teaching and power to unclean sources have closed themselves off forever from his goodness, but those who hear his word and keep it, even if their efforts are imperfect, are the ones who find in him life, forgiveness, renewal, and redemption. As the Lord himself taught so forcefully: "looking around at those seated in the circle he said, 'Here are my mother and my brothers. For whoever does the will of God is my brother and sister and mother'" (Mark 3:34-35).
As we forge into the summertime of the Church year let it be our resolve to turn away from the pattern of sin forecast in Genesis and exemplified by the scribes in the Gospel, so that with all God's holy people we might be numbered among the sisters and brothers of the Lord, saying always with the Psalmist: "With the Lord there is mercy, and fullness of redemption" (Ps 130:7).