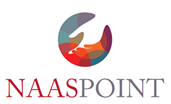 NaasPoint is an initiative of the Parishes of Naas, Sallins and
Two-Mile-House to meet the needs of those who might find themselves in
particular difficulties with hospitality, welcome and dignity. It is
inspired by Catholic Social Teaching and the call of Pope Francis for
parishes to reach out to those in difficulty.
In that context, NaasPoint volunteers have been involved in hospitality
projects, food drops, practical help and a phone service during lockdown
and other practical services.
NaasPoint Mission statement:
We are the community of Naas Parish responding to human needs by
offering  welcome, hospitality, respect and encouragement to promote the dignity and
fundamental rights for each person in need.
Fundraising:
NaasPoint Christmas Cards are available to purchase now, €5 for a pack of 6
cards. All proceeds go towards NaasPoint projects. Cards depict scenes of
the stained glass windows in the Church of Our Lady & St David, Naas. NaasPoint
continues to offer practical help to those in need at this time. If you
would like to get in touch with them, please call the Parish Office on 045 879 730.