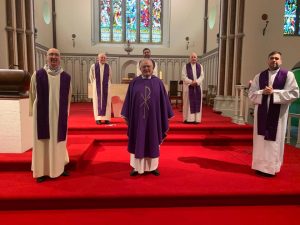 On Wednesday 16th December, Fr. Michael celebrates an important and significant milestone. The Golden Jubilee for his ordination to the priesthood, fifty years ago on the 16th December 1970.
As we all know Michael is an Offaly 'nice' man, native of Clara, responding to the call of Priesthood, he joined the Society of African Missions (SMA). Michael has had a rich and varied experience of priestly ministry. After ordination he was posted to Liberia, ministering there for nineteen years. A country that experienced much poverty, civil war, and deep unrest. Returning to Ireland Michael was appointed as parish priest to Neilstown in Dublin. However, the song of Africa was still reverberating deep within and Michael made his way to South Africa and ministered there for a period of thirteen years. Since his return to Ireland, Naas has been his home for the past four years.
Michael has become a valued colleague, appreciated by so many parishioners to whom he ministers so faithfully. We appreciate his insights, his experience and anecdotes from foreign parts and most especially his easy, good natured, down to earth, good humoured ways! He has a deep love for scriptures, a great interest in the lives of saints, as well as a curiosity about historical facts and trivia. When work is done Michael likes nothing better than to put the feet up on a Sunday afternoon and watch a hurling or soccer match, mind you any sport. Often he goes on a course! A course with the small ball. Seemingly he is handy!
We thank Michael for his ministry here in Naas and particularly in Two Mile House. As well as sacramental moments of parish life, Michael engages fully with chaplaincy to our local schools, hospital ministry and the many groups and committees that make up the day to day fabric of Parish life. We thank him for his faithful ministry among us and for the generosity of his commitment over a life time.
Like so many other occasions, the pandemic has deprived us of the opportunity to celebrate and be together. However we cannot let the moment pass without marking this important jubilee. In a very simple way as befits the simplicity of the man himself, Michael will celebrate the 10am Mass on Wednesday 16th December, where his colleagues will join him. Maybe afterwards we will give Michael a cuppa!                                                                                                                                                                                                                                                                                                  Michael, congratulations on the Golden Jubilee of your ordination and a heartfelt thank you from your colleagues and the parishioners of Naas, Sallins and Two Mile House.
Ad Multos Annos!