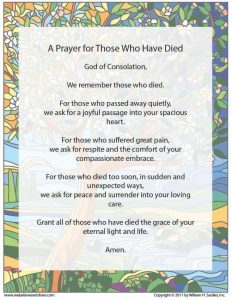 The first of our parish Masses of Remembrance will be held on Friday 6th November, at 7.30pm in the Church of Our Lady and St David. Each Friday during the month of November we will remember by name a number of parishioners who died during the past year. Since we are unable to gather as a parish community under the current Covid 19 restrictions, we invite anybody who wishes to remember someone who has gone home to the Lord to join us for Mass via the parish webcam.
In St Peter's Church in Twomilehouse, the Annual Mass of Remembrance will be on Sunday 8th November at 11am, and is also available via the webcam from that church.
We hold in prayer all who have died this past year, and all those who are grieving.