Ash Wednesday: Day of fast and abstinence with blessing and distribution of Ashes.
Trócaire Box: Placed at the centre of each home we continue this important tradition.
Weekday Mass: Usual Mass times each morning in Naas, Sallins and Two Mile House.
Mass on Monday, Wednesday, Thursday & Friday evenings in Ballycane at 7.30pm.
Tuesdays of Lent: Family Prayer Time – Pray together with your children/grandchildren. All generations welcome! Commencing on Tuesday 3rd March at 7pm in CIM,
Ballycane. Please see our newsletter and web page for further details & dates.
Bible Study: Bible Study Sharing, with Fr. Michael, begins on Monday 2nd March at 8pm in CIM Ballycane after Mass.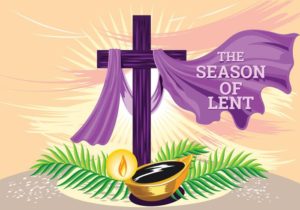 Scripture Study: Scripture Study for Lent, with Fr. Sean, begins on Monday 2nd March, and will also take place on the 9th & 23rd March, at 8pm in the Parochial House, Sallins Road (blue door). Please bring along a bible! All are welcome, however spaces are limited to 15 people. Sessions will normally last no more than one hour and will be based around reading Scripture and discussion of that reading, ending in a quiet moment of Prayer.
Scripture Sharing: Tuesday mornings after the 10am Mass, in the Parochial House, Sallins Road (blue door), beginning on Tuesday 25th February.
Fridays of Lent: Stations of the Cross at 12.30pm in OLSD, Naas beginning on Friday 6th March.
Mass by candlelight, followed by Adoration and Benediction, in CIM Ballycane beginning at 7.30pm.
Diocesan Initiative – 'Digging Deeper' ; a weekly bulletin for Lent. Extracts of this bulletin will be included in our Sunday newsletter.