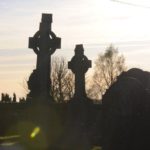 Many people like to attend mass on All Souls Day to pray for and remember their loved ones who have died.
Naas Parish Church: Saturday 10.00am – Mass of the Commemoration of all the Faithful Departed
The Commemoration of all the Faithful Departed is the day on which the Church intercedes for all those who have died. We pray especially for our own relatives and friends and we continue to pray for them throughout this month of November which is dedicated to their memory.
O Almighty and eternal God who has dominion over the living and the dead and who is merciful to all who are faithful to you in faith and good works; we humbly beseech you that those for who we have offered our prayers, whether living or deceased, may through the intercession of your saints and the clemency of your goodness obtain pardon and full remission of all their sins, though Christ our Lord.