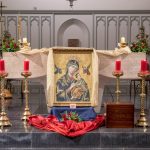 On behalf of the Parish Team and Parish Pastoral Council, I would like to express a sincere thank you to all who volunteered, participated and attended our recent Parish Novena.  The Novena was a wonderful experience and a great opportunity to come together as a Community to support each other in Prayer. It has been a great blessing for our three Parishes; Naas, Sallins and Two Mile House.
The Novena was truly a combined effort, and we are grateful to all who gave so generously of their time, both individuals and different ministry groups, all who attended and have given kind feedback.
And lastly, thank you to our wonderful and thought provoking guest speakers who spoke about their work and faith journeys. We hope the Novena will be remembered as a wonderful celebration of community solidarity and a time of great grace.
Fr. Liam