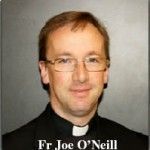 This week Fr Joe O`Neill will be leaving our Parish to take up a Sabbatical Year in a parish in the U.S.A. He has been with us since August 2015 and during that time has served faithfully his ministry and endeared himself to all. He has been a good supportive colleague and companion to all on the Parish Team.  Among the many duties Fr Joe has been involved in are his Baptism, Funeral and Marriage Ministries. Also the rotation of the Mass Schedule between the four Churches in our Parishes and in the last year serving predominately in Sallins. His involvement with St Corban's Boys School, Sallins Primary School and C.B.S Secondary School as Chaplain. Fr. Joe has also served Naas General Hospital as part of the On- Call Rota in the Parish. He has also served in various Diocesan Commissions such as Liturgy Programmes and with Marriage preparation Programmes in Accord.
We greatly appreciate his spiritual input into all the work and service in which he was involved and his sense of humour lightened many a heart. We wish him a refreshing sabbatical across the seas in L.A.
Living the Dream Fr. Joe!!!