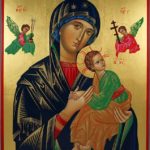 Following on from the wonderful celebration of community and solidarity during the Novena held in the parish of Naas in October 2017, the Pastoral Councils of Naas, Sallins and Two-Mile-House are delighted to announce that a 2nd Novena to Our Lady of Perpetual Help will take place from 5th to 13th October 2018 in the Church of Our Lady and St. David, Naas in October this year. The Novena is both an opportunity and a challenge. It will be an activity-packed week hopefully offering something for everyone to engage with. We hope the Novena will bring new life to our parishes and be remembered as a time of great grace. The speakers we"ve invited come from all walks of life and their messages will be contemporary, relevant and challenging.
Many hands make light work! To ensure the success of the Novena, we"re going to need help with the practicalities of hosting daily events in the Parish, preparing the liturgies, promoting the Novena and ensuring that everyone attending the various events are made feel welcome and valued.
This is YOUR opportunity to get involved! Please come along to the Open Meeting in the Church of the Irish Martyrs, Ballycane at 8pm on Thursday, September 13th to hear more about what the Novena will involve and how you can help.